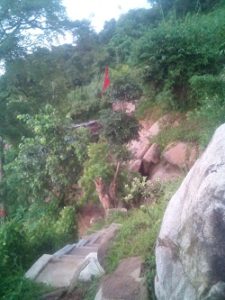 Gupt Kamakhya – :There are 51 Shakti Peethas known in India & Kamkahya is the foremost amongst them all. Anyone who knows something about spirituality have definitely heard about this place. This temple which is situated on Nilachal Hill holds lot of mysteries, which have not been manifested for mankind.
One such place which is referred in many ancient texts is Gupt Kamakhya (Gupt = secret). This place is still not known to many people & only a few chosen ones have privilege to visit this place. One of the reasons is this place Gupt Kamakhya is situated in midst of a Jungle, and many a times wild animals are easily spotted here – hence even localities don't prefer to go here.
MAA resides with her full glory in Gupt Kamakhya, & her presence is witnessed inside the Gufa (Cave). Gupt Kamakhya is a highly pious & Spiritually power packed place for Sadhana. Attached 1st pic shows the surrounding of Gupt Kamakhya.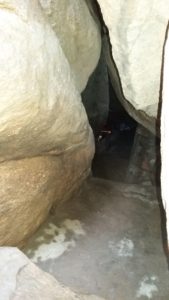 One more noticeable feature of this place is, it is purely a satvik place – meaning strict no for animal slaughter. MAA is pleased with non-violence, love & compassion, and hence she is called as "Vaishno Devi – Gupt Kamakhya". This Gufa is surrounded by many mysterious things. Given here in the 2nd pic is entrance of the Gufa of this mysterious place (Snaps inside the cave of MAA's Gufa are not allowed).
Daily Worship of MAA is done. Afternoon Satvik Bhog/Prasad made without even adding Garlic/onion is offered to MAA.
Bramhand Baba – Just few meters away from the MAA'S Gufa is Bramhand Gufa, holding Shivling.
Entrance to this Gufa is even tougher, as you literally have to go vertically downwards by hopping on Rocks.
Since this is situated beneath the normal surface of earth it is called Bramhand Baba (Baba is another way of calling lord Shiva lovingly).
See the attached pic of Bramhand Shivling. Unlike the MAA's Gufa, direct Pic of Bramhand Baba is given here. Sadhaks & Yogis also meditate here.
The peace & tranquility experienced here is unmatched.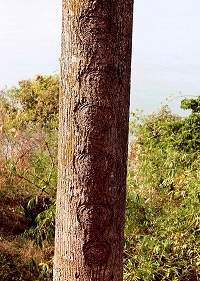 Chakra Tree – Entire Chakras of subtle body as seen in Kundalini are clearly witnessed on this mysterious tree.
Meditating on the Chakras of this tree by doing Tratak gives very strong vibes & activates our inner bodies.
This certainly is a mysterious tree, as rarely you come across Chakras directly on any Tree! And why won't, there be a mystery here, as entire thing is in close vicinity of MAA KAMAKHYA.